Mensches
Thank you to our Donors and Volunteers

The San Luis Obispo Jewish Film Festival is made possible by the generous donations and volunteers from our community.
Their support is the foundation of this festival, and we ask that you show them your gratitude and support their businesses.  
We invite you to visit our business and organization supporters by clicking on their logos, which will take you to their websites.
IRINA STAR LEGACY AWARD
The annual SLOJFF Irina Star Legacy Award is presented to an individual who has dedicated their time, talent, and professionalism to serving the needs of our local Jewish community. Their altruism reminds us all that we can make a difference.

It is our honor to announce Carol Sue Berger as the recipient of this year's Irina Star Legacy Award, presented by the San Luis Obispo Jewish Film Festival and the JCC Federation of San Luis Obispo. She has been a tremendous volunteer in the SLO Jewish community, and her efforts have benefited the greater Central Coast for decades. Carol is the ultimate woman behind the scenes, and we thank her for her tireless efforts.
From its inception 12 years ago, Carol has served on the SLO Jewish Film Festival committee, selling raffle tickets like no one else, assisting at the Palm Theater as a host, and serving in many other supporting roles. Carol has demonstrated years of dedication supporting JCC's community programs, from pouring cider at our Hanukkah Downtown celebration to selling Jewish baked goods at the Apples and Honey Festival. She is also an active participant at Temple Ner Shalom, where she is always ready to help in whatever capacity needed. Carol plays an important role in making our community thrive, and we are very lucky to have her here on the Central Coast.
Carol's outreach goes beyond the Jewish community. For 13 years, she has coordinated the 40 Prado Lunch Team, providing hot meals to as many as 80 families and individuals monthly. With a passion for the disenfranchised, Carol has played a significant role in the annual Christmas Dinner for the homeless for the past 20 years and been a staunch advocate for the Five Cities Homeless Coalition. Dedicated to Hospice of San Luis Obispo County, Carol served as the South County coordinator for their annual "Light Up a Life" event. The American Red Cross and the Pismo Beach Police Department have also benefited from her passion for volunteering.
Clearly, Carol Berger is a model of altruism and sacrifice, and we are delighted to celebrate her contributions.
Irina Starodubzew was a critical component of the Jewish Film Festival from its inception twelve years ago. An unsung mensch, Irina was the ultimate woman behind the scenes. Her contributions to the Jewish community, and her commitment to sharing Jewish culture were at the core of her life's work. When she passed away, far too young, we established this award for an outstanding volunteer in her honor and it is presented annually to a JCC volunteer who has gone above and beyond in his or her efforts for the Jewish community throughout the year.

FEATURE FILM SPONSORS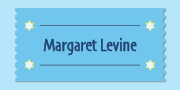 MISHPACHA DONORS

COMMITTEE VOLUNTEERS
Co-Directors  •  Muara C. Johnston & Bruce Silverberg
JCC-Federation Manager  •  Bobby Naimark

Carol Berger  •  Victoria Culman  •  Leah Matthys
Richard Namm  •  Jennifer Schwartz
Isaac Shafran  •  Susan Stern-Pearl  •  David Weisman
WANT TO GET MORE INVOLVED?
DONATIONS
We always welcome your generous gifts. To make a donation use the button below.
SPONSORS
If you would like to sponsor a film or an event, please email [email protected] for more info. 
VOLUNTEERS
Please email us at [email protected] and we will be in touch.
To volunteer for next year's Festival, send us a note and we'll keep you in the loop. 
BE A MENSCH

We are very glad you are enjoying the SLO Jewish Film Festival. Name the amount you wish to donate. Your tax-deductible gift is greatly appreciated! For donations of $54 or more, you will receive a special 2022 SLOJFF gift!
Already purchased a pass? Login